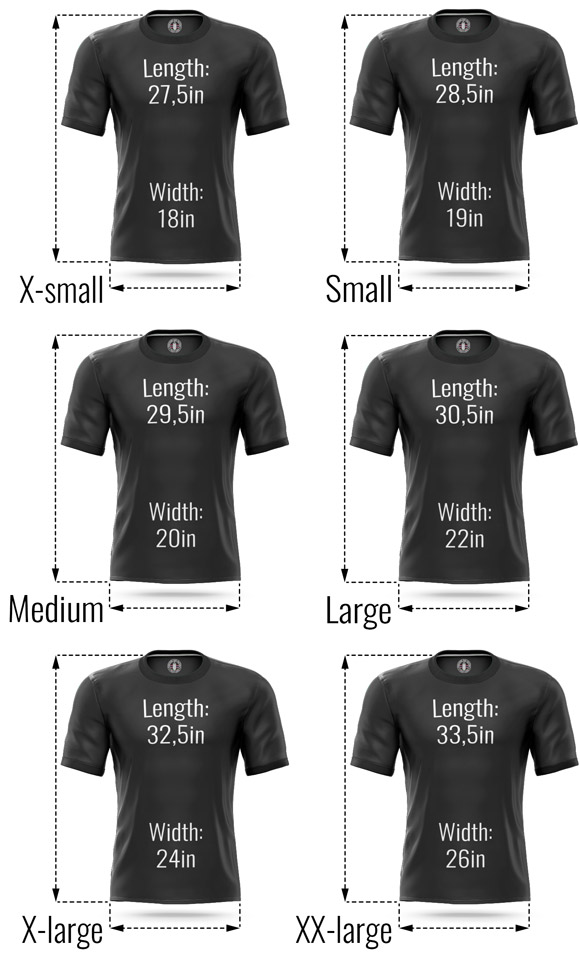 © Copyright 2021 - Punching Bag Factory
Custom printed sublimation t-shirts
฿325.00
The best Custom sublimation shirts deal guaranteed!!!!!.
50 full printed sublimated t-shirts or jerseys with your own logos and personalized design for 11.95usd. This price is inclusive door to door worldwide shipping with track and trace.
If you are interested in big order quantities please contact us, we have a daily production capacity of 1500 sublimation t-shirts/jerseys and prices start already as low as 4usd.
These sublimation t-shirts and jerseys can be all-over printed inclusive of the sleeves. We only use the best quality and eco-friendly inks. At the Punching Bag Factory we also print in neon colors and glow in the dark, which is very suitable for cycling and running shirts.
Extra soft – Wrinkle resistant – Quick dry – Breathable – Anti odor.
We use a Regular fit – the every day, not-too-tight and not-too-loose shirt, originally produced for generations. Timeless, classic, comfy, look and fit.
Available sizes: XS – S – M – L – XL – XXL See size chart.
Size Chart
Description
All our custom sublimation t-shirts are from 100% polyester and of premium quality. We use heat printed Punching Bag Factory  neck labels, if you prefer your own branded neck labels you need to contact us.
The sublimated shirts are separately packed and cardboard is inserted. Branded packaging and labeling is possible, contact us to discuss the possibilities.  
When you do not have a  sublimation t-shirt design print-ready then we help you to digitalize your design, so we can print it in the best quality possible.
We at the Punching Bag Factory have our own team of skilled graphic designers. They can help you create an awesome sublimation sports t-shirt design.
When you order 50 customized sublimation t-shirts we charge a small fee. For bigger order volumes and for regular customers we offer sublimation designs free of charge.
Get your branded sublimation shirts in the same designed style as your custom punching bags, order them together and receive an extra discount.