The Punching Bag Factory is one of Thailand's best tank top manufacturers.
We offer all kinds of personalized tank tops, which are easily customized and adapted to your every need. We have a dedicated team of skilled graphic designers available to help you personalize your tank tops and bring to you a valuable product, making sure you will receive the kind of custom tank top you desire

We can easily create custom men's tank tops, custom women's tank tops, and even unisex tank tops, that are designed to be suitable for both sexes. We can offer you simple plain tank tops, such as white or black tank tops. On the other hand, if you like to stand out in the crowd and enjoy bright colors and a stylish design, then neon tank tops would be a great choice of sportswear for you!

Regardless if you're going to the gym, work, or just hanging out around, the best tank tops fit comfortably, be it loose and relaxed or fitting to your body, coming in a variety of designs with different straps, necklines, colors, and styles.

Tank tops are especially helpful while keeping you cool since they're sleeveless. In contrast to a sleeved undershirt, tank tops cover the fundamental parts while keeping your arms ventilated. Besides, tank tops offer you more freedom of movement and exercise in your arms, which helps you feel comfortable while working out.

The best tank top for you can depend on the type of workout or sport you are doing, which is a very important thing to keep in mind. Because of this, we can offer you multiple models and styles of tank tops, all of them easily personalized, according to your preferences, just for you!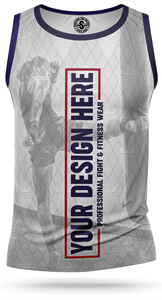 MENS TANK TOP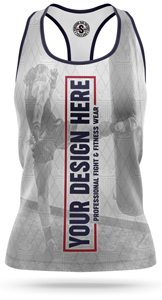 WOMENS TANK TOP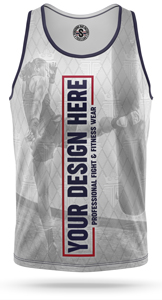 SPORTS TANK TOPS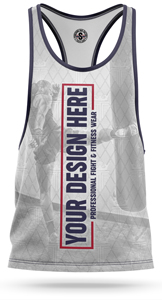 RACERBACK TANK TOP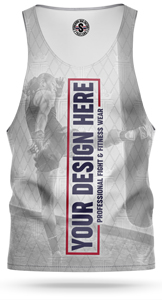 GYM TANK TOP
We can offer you the following tank tops models:
Workout tank tops are made to be comfortable, allowing you to follow your workout routine without trouble or restrictions.

They are a perfect choice if you are looking for gym tank tops, with light, and breathable fabric that ensures you stay fresh during your workout routine, offering you more freedom of movement and ease, so if you compete in any sport, those tank tops would fit well for you. Because these types of tank tops are specially designed for workouts and exercise, they can be stretched and loose whenever needed. Men who like to show off their biceps and muscles like to wear tight-fit, low-cut tank top style.

The racerback tank top is a sportswear garment with a "T" shaped back behind the shoulder blades which allows ease of movement in sports. The garment is cut and sewn to reveal the wearer's shoulders and shoulder blades. The racerback top silhouette can be designed to be worn under another garment or as a shirt. This kind of women's tank top goes well with bras, swimwear, shirts, and dresses that can be produced with the racerback shape. The garment can be in various custom colors, graphics, and fabrications. A racerback bra can be an excellent choice for wear under a tank top or similar thin-strapped top, allowing the wearer to have the support

and discretion provided by a bra, while ensuring that the straps can remain concealed under the similar straps of the tank top, leading to a more complementary shape and form for the garment. A racerback is frequently used as a type of women's swimsuit, with a design that is common today among competitive swimwear designers. The top-back of the swimming suit isn't covered, offering flexibility and ease of movement for the arms during swimming.

If you are looking for workout tank tops for men, the stringer tank tops are the most revealing in our line of sports tank tops. The stringer tank tops allow a sneak peek of your toned or muscular physique, while also keeping you cool and comfy as you lift in the gym. These men's tank tops allow you to see your progress as you get pumped up during your workout, boosting your confidence and motivation.

The running tank top has a lightweight and comfortable design that helps you stay cool and dry during your cardio training. You can choose from a variety of designs that pair perfectly with your running shorts or a casual pair of pants. We can also customize and personalize this running apparel with anything that you desire, such as motivational sayings, your favorite colors or designs, that will provide you with the extra motivational push that you need and deserve, helping you show off your personality. You can wear these cool and stylish running tank tops during the heat of the spring and summer, or as part of a layered outfit during cooler months. This kind of tank top is a great choice if you desire to feel relaxed and cool while improving the airflow.

A muscle tank top usually looks like a t-shirt with no sleeves on it; these tops are often popular among men who want to flaunt their muscles. On the other hand, we also offer women's muscle tank models, that are perfectly matched for women with athletic interests.

The cropped tank top is ideal for the summer months and is easy to pair with shorts, skirts, and jeans alike, being quite versatile. The high neck tank top is another versatile tank top model, covering your chest in case your workout during colder days.

Loose tank tops are the best if you are interested in sportswear that hangs loosely around your body for a relaxed fit. You can also wear a long tank top for a more casual, flowy look.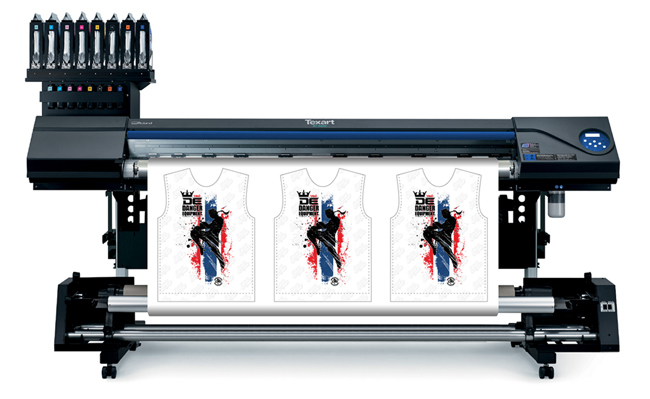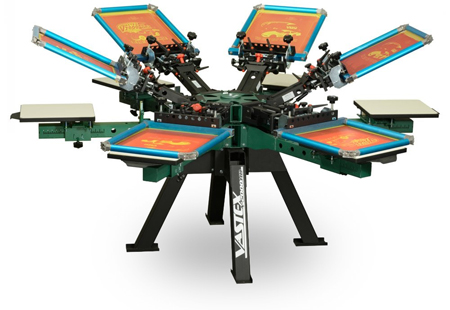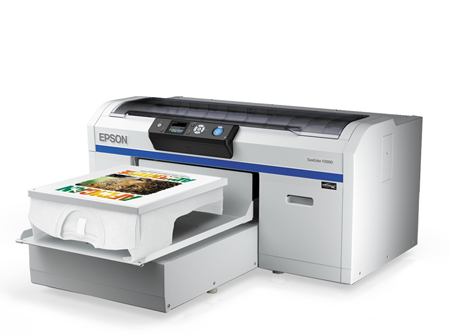 We use 3 different tank top printing processes to customize or tank tops.
We use a simple process called screenprint for all cotton fabrics. We put a film on top of the fabric, smearing manually the ink on the fabric, then we dry it and add the next layer. We can only put a max of 4 layers of colors, and print only simple designs, no pictures, and no fadings.

We can use the sublimation print on polyester shirts which are used for many sports, such as soccer shirts. We can print full color and create complex designs. First, it's printed on paper with a big printer, and after we press the paper on the fabric so the color gets heated into the fabric.

The DTG printing is a quite new technique that we practice, using a printer to print straight on the cotton tank top fabric. After that, we put the tank top under the heat press machine to be sure we press the colors into the shirt, giving it the same bright effect as the screen print method. The advantage of dtg print compared with screenprint is that you can use full color and picture designs. DTG is a combination of the best of 2 worlds, sublimation, and screenprint.

Screenprint we only use for orders of minimal 50 pieces because of the setup costs, while sublimation and dtg has very low setup costs and is more affordable, so we can do smaller orders We dye and sublimate all kinds of sports and gym shirts such as tank tops, singlets, razorbacks soccer, and basketball jerseys.
We cut and sew all or tank tops in house
We cut and sew all or tank tops in house At our cut and sew department we also manufacture blank tank tops for sublimation and screen printing. Our blank tank tops are of premium quality and are used by printing companies all over the world.

All our plain sublimation tank tops have the highest quality polyester or cotton and have a regular fit. Over the years we have created the perfect fit which is not-too-tight and not-too-loose and suits every body type. In case you prefer your own fit, we do have a pattern maker at the factory who can make your own custom fit.

We make the clothing from scratch, we buy the fabric and cut and sew plain tank tops, razor backs singlets and stringers, from it after we sell blank or we print ourselves. for us is it also easy to put custom neck labels inside the tank tops and do custom packaging with the logo of customers, also, they cannot offer sublimation tank tops because they have to be printed first after they get cut and sewed.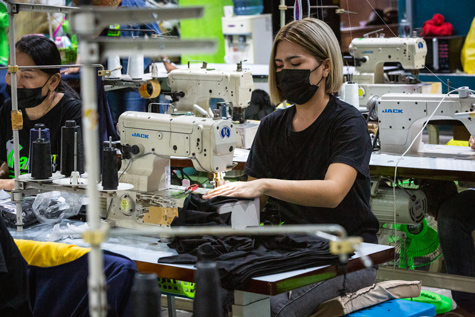 All our plain sublimation tank tops have the highest quality polyester or cotton and have a regular fit. Over the years we have created the perfect fit which is not-too-tight and not-too-loose and suits every body type. In case you prefer your own fit, we do have a pattern maker at the factory who can make your own custom fit.
We produce and print both polyester and Cotton Tank tops
For the production of our sublimation shirts and tank tops, we use 100% polyester fabric PFP (Prepared for print). The polyester tank top has a soft matte finish, feeling similar to very soft cotton but with all the benefits of today's high-quality polyester fabrics.

All polyester fabrics used by the Punching Bag Factory are Sublimation Certified℠. When printed on Sublimation Certified℠ fabrics we can achieve much brighter colors and extra sharp images. Using this sublimation-approved polyester fabric in combination with high-quality inks further ensures that the colors do not fade over time.

The fabric is odor, wrinkle, and microbial resistant, however, it is also possible to order the fabric with your own specifications. Our top-notch quality comes from our partnership with the biggest fabric mills in Thailand, specializing in the production of cotton and polyester fabrics.At the Punching Bag Factory, it is possible to order polyester and polyester blends in any kind of specifications and with or without UV protection. But keep in mind that there are minimum order quantities attached to it as we prefer selling in bulk tank tops and tank tops wholesale arrangements.

For cotton tank tops we use combed cotton c32 160grams, which is from premium grade. If you are in need of cotton with your own specification you should contact us. We can provide you with any cotton fabric.