PBF specializes in manufacturing sublimated sports t-shirts and jerseys
The Punching Bag Factory consists of a group of western fanatical sports enthusiasts with their own sportswear factory based in Thailand. We strive to make the highest quality sublimation t-shirts and jerseys as possible.

We are the only sportswear factory in Thailand where you can order both sublimation shirts and punching bags together and in the same design. When you order both custom punching bags and sublimation t-shirts we offer you special packages discounts.

We're specialized in sublimation t-shirt printing for well-known brands such as: Venum, Windy Fight Gear, Muscle Factory, Fairtex, Danger Equipment and many others. PBF also offers small order quantities for start-up brands and sports teams.

The punching bag factory offers the cheapest shipping rates from Thailand, and we export and ship worldwide.
Cut and sew blank sublimation shirts
At the Punching Bag Factory, we run our own cut and sew department. We have 40+ high skilled seamstresses working for us. We cut and sew all kinds of sports shirts, below some styles we create and sublimate :
Muay-Thai t-shirts, Soccer jerseys, MMA t-shirts, Basketball jerseys, Esports shirts, Cycling jerseys, Race shirts, Run shirts and many more.

At our cut and sew department we also manufacture blank polyester shirts for sublimation printing. Our blank sublimation t-shirts are from premium quality and are used by printing companies all over the world.

All our blank sublimation shirts are from the highest quality polyester and have a regular fit. Over the years we have created the perfect fit which is not-too-tight and not-too-loose and suits every body type. In case you prefer your own fit, we do have a pattern maker at the factory who can make your own custom fit.

Our production capacity for blank sublimation t-shirts and jerseys is around 1500 pieces daily.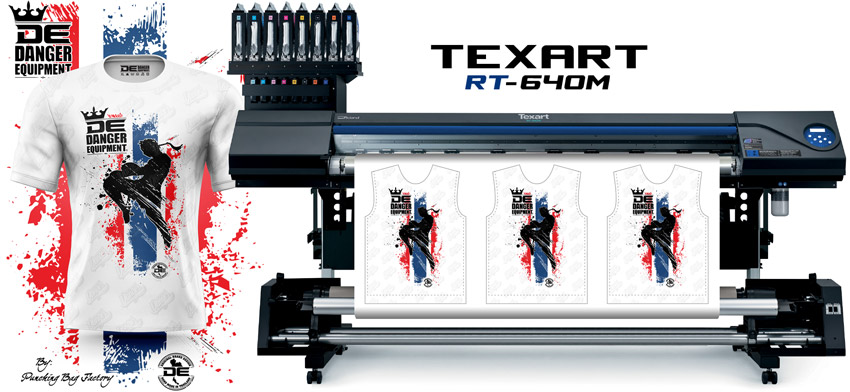 We are specialized in sublimation t-shirt printing
Sublimation t-shirt printing is a process that uses a combination of ink, heat and chemistry to transfer designs onto fabric. The sublimation printing process allows the ink to bond - chemically - with the fabric, which means the printing is permanent.

Note: The way that sublimation printing works also allows for "seam to seam" printing - meaning it can be used to create larger and more complex designs than screen printing.

As such, the quality of our custom full printed sublimation t-shirts and jerseys are among the very best in Thailand. In addition to that, we use hybrid sublimation printers, combined with only the highest quality eco-friendly inks for our sublimation printing process.
Here at the punching bag factory, we use a separate sublimation printer exclusively for printing sublimation shirts in Fluorescent (neon) colors. Neon printed sublimation shirts are very suitable for cycling jerseys and run shirts.

With neon sublimation printing we also create glow in the dark t-shirts, which gives a special effect when under black light.
premium quality 100% polyester t-shirts
We use 100% polyester fabric PFP (Prepared for print). The polyester has a soft matte finish and feels similar to very soft cotton but with all the benefits of today's high-quality polyester fabrics.
All polyester fabrics used by the Punching Bag Factory are Sublimation Certified℠. When printed on Sublimation Certified℠ fabrics you archive much brighter colors and extra sharp images.

Using this sublimation approved polyester fabric in combination with high-quality inks also ensures that the colors does not fade over time.

The fabric is available at a weight of 140 to 160 grams and is odor, wrinkle and microbial resistant.

However, it is also possible to order the fabric to your own specifications. We work with Nanyang and Jongstit which are the biggest fabric mills in Thailand.

At the Punching Bag Factory it is possible to order polyester and polyester blends in any kind of specifications and with or without UV protection. But keep in mind that there are minimum order quantities attached to it.


Promotional and giveaway sublimation shirts
When you are in need of cheap sublimation shirts for promotional purposes or for giveaways we've got your back. However, keep in mind that for cheaper sublimation jerseys and t-shirts the minimum order quantities are higher. In order to offer you a cheaper price, we are forced to use a lower grade (but still good quality) fabric. We do not stock those polyesters t-shirt fabrics and the minimum order quantity is 100 yards.

Another way to get your sublimated jerseys and t-shirts as cheap as possible is to subscribe to our end of the month stock clearance. We sell out all or leftover fabrics, ready for the production of your custom sublimation shirts.
---